A Need-to-Know guide to patio panel pet doors! So your pet needs their own door but you need your that kitchen door or wall intact?
A Patio panel insert allows you to keep from drilling into your home's walls or doors. A great solution for renters, you will never have to get up to let your pet outside. These inserts allow you to use your slider normally. Once installed, you the insert attaches to your frame, leaving room for you to walk through. Your insert will take up some walking space, be sure to check the size chart to check panel width. This is helpful so you can gauge whether it is going to take just enough space or not. Lastly, most inserts cannot mate with your existing slider lock, so additional mechanisms will come with purchase.
A great option requiring little to no tools are Sliding Glass Dog Doors.These great panels do not ask to modify the frame of your sliding glass doors. Installation is simply placing the panel in the same track your slider slides on. The panel will meet with your frame and can even adjust to your track height with its spring loaded top!
Below are the most important things to consider about Patio Panels.
We have gathered information from the most common questions and talked to pet door experts.
Here is your official checklist!
Take Necessary Measurements
1) Measure your Pet and Track Height
You will need to measure your pet and track height.
It may seem a little strange, but measuring pet dimensions is very important too. We have a guide to on how to properly measure your pet. We recommend checking their height from feet to shoulder. It is not advised to go by weight or breed, since a beagle and poodle can be the same weight and different sizes. Our pet door experts suggest the top of the flap be at least an inch above your pet's shoulder. This height includes the step-over, which is how high the bottom of the pet door is raised from the ground.Check out our measuring guide for a video and more information.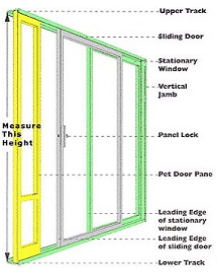 For almost all patio inserts, you will need to measure the track height from top to bottom. This is the space your slider slides on. Top to bottom refers to the deepest parts on the top, to the deepest parts on the bottom. If you are looking into the Hale Omni Panel, please note that panel does require a different measuring technique.
This is great in the event you mis-measured. It does happen. A common occurrence is your measurement being very close to (or even a little below) the bottom of the adjustment range of the pet door you need. This may raise an issue because the insert needs to be a little shorter to get up and over the bottom rail. If it's already close to it's shortest adjustment range, it may not be able to get short enough to actually install. The opposite problem is when your measurement is at or a little above the top of the adjustment range. We recommend a discussion with our customer service department in both these cases. We are glad to note the Thermo Panel IIIe has an 'anti whoops' feature that addresses both these problems.
2) Measure your track width or thickness
This will determine if the panel you are looking at will sit snug or loose. Measure the track your slider is on from the interior side of the home to the exterior.
Consider Step Over
A 'step-over' is the distance between the ground and the bottom of the flap. The higher it is, the bigger the hurdle your cat or dog will have to get over. This is one the most key components to consider for a number of reasons. If your step-over is too high, your pet may struggle getting through their door. If too low, they may end up scraping their back when they enter and exit. It is hard to determine what height works when your dog is a puppy. We recommend getting a panel with an adjustable step-over range so they can move through easily at every point in their growing life.
As we mentioned earlier, this should be considered when looking at flap sizes. Patio panels will all have minimum a step-over while some can be customized. Check out our exclusive guide for all the detailed information.
Check Your Frame
This includes checking the color and frame material. Most inserts are made out of aluminum. If you have a vinyl framed slider, please take note that our aluminum inserts can still work. There is more standardization in the newer vinyl framed panel doors. These inserts are limited in flap and track sizes. The manufacturer of the only vinyl framed inserts is Ideal Pet. Please check our site for their products. If you needed a different color than we offer, your insert can be painted over. If you are going to paint over it, we recommend a white color since that is easiest to cover up.
Advantages of vinyl inserts:
The insert will mate with most sliding patio locks
You will not have to worry about whether the rail of your track is a problem or not
Having the same material in your insert and frame will give it a natural look
Important Considerations before getting your Patio Panel Pet Door
Vinyl or Aluminum?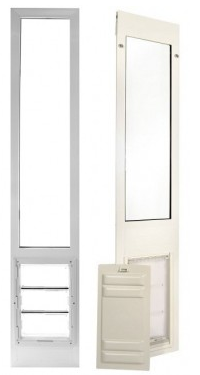 Patio panels are typically manufactured using aluminum. A common concern is for those with a vinyl slider frame. Contrary to popular belief, aluminum panels can be inserted into a vinyl sliding door. The concern with the two materials has to do with the fit. Vinyl frames tend to have wider tracks than aluminum frames.
The solution: Shim or toe-nail the panel. Shimming can make up for room on the top or bottom of the panel. To toe-nail the panel in, screws are drilled in at angle to go through the panel and into the track. This helps the panel's stability. While you may want a vinyl insert to match with your slider, be aware there are less sizing options and height ranges available. In fact, the only vinyl panels are the Ideal VPP or Ideal VIP which comes in a dog or cat version.
Security

Most panels will not mate with your existing slider lock, but they do come with an alternative locking mechanism. There are a few solutions PetDoors.com can offer. With no tools required, you can use a Clamp lock or Charley Bar.These locks can be taken off your slider any time of day. The clamp lock attaches to the bottom of your track, while the bar sits between the frame and slider. The VIP and VPP vinyl pet door in slider options actually have a lock latch that you install on the side of the panel for your lock to mate with. So this is a great locking dog door for sliding door option, but only it you have vinyl. Also the VIP and VPP latch lock hardware will not work properly with other slider models. Additionally, each pet door comes with their own locking cover!
With tools required, there is a Foot Lock you can also attach to the slider. This lock is drilled in and is conveniently foot operated! You can use this lock for any slider, although it is more secure option for taller sliding glass doors.
Price Differences
There are many differences in the quality of panels, so there comes a difference in price. Here are the main points that determine price: Height: Almost every height range causes the price to vary, especially if your slider is not "standard" height according to a manufacturer. Custom height options will also cause a price hike.
Glass Type: This can refer to whether you purchase a panel with dual or single pane glass. You can purchase a glass type to match your existing sliding door. The difference in the two panes can impact your insulation value.
Electronic Panels: There are not panels that can read microchips for large pets, but cats and small dogs can use a SureFlap in a panel. Electronic panels for larger dogs require each pet to wear a collar key. The flaps of these High Tech pet doors are not manual, instead, they will automatically open upon reading a collar key signal.
Flap Size & Flap Type: Every flap is designed for specific purposes. Some flaps are designed to resist weather better than others, which can mean an increase in price.
There are many great benefits to a sliding glass insert. With little to no tools required, these items are great for renters or for vacation homes! No modifications are necessary, just careful measurements. As with any pet door, please take note of step over options available. Most panel inserts will not have adjustable step overs, except the Thermo Panel 3e. For other models, you can look into getting a custom step over to help your pets access their door comfortably.
Last Minute Considerations…
Worried about bugs flying in between the screen and patio pet door?
Check out the Bug Warden, it can solve a problem you may not have considered.
Do we not have your track size?
If this is the case, you may need a custom panel height. The Hale and Thermo Panel 3e can be made to fit just about any height. The Fast Fit can be made to fit heights above 80 inches.
Wondering how to lock the pet door?
Each pet door comes with its own security cover to restrict access through the flap.
Need an electronic solution for your sliding glass?
We have a few products to consider. Most will require your pet to wear a collar key to signal the flap to unlock. We have a microchip option for small dogs or cats. These are the best solutions to keeping unwanted critters from entering your home!
Deciding on single or dual pane?
Dual pane glass insulates much better than single pane and, as well, attenuates noise much better. If you're going to live with the pet door for a long time or if you're planning 4 season use, it might be worth getting dual pane. If you live in a temperate area, single pane may be just fine. You can tell what type of glass you have by placing a finger on both sides of the glass. If they look like they're touching, you have single pane; If they stop about 1/2″ apart, you have dual pane. In the event that you have any additional questions, or need clarification, please contact us and we would be glad to help!
In the Glass Pet Doors
Alternately, we can have a new piece of glass manufactured to fit your sliding patio dimensions. You can have an Endura Flap pet door pre-installed at the bottom of a piece of glass that will replace your current glass. These are the Custom In the Glass options.
Using a pet door that is installed in your glass allows you to use your sliding glass door's normal locking system. It also lets you use the full width of your sliding glass door when you come and go! Check with a PetDoors.com expert for more information!