A Need-to-Know guide to patio panels! So your pet needs their own door but you need your that kitchen door or wall intact? A great option requiring little to no tools are Sliding Glass Dog Doors. These great panels do not ask to modify the frame of your sliding glass doors. Installation is simply placing the panel in the same track your slider slides on. The panel will meet with your frame and can even adjust to your track height with its spring loaded top!
As there are a few things to consider with these panels, we will be touching on the most important!
Need-to-Know
What to Measure
Make sure your panel will fit before you order and you will save time and money. The two things to measure pre-installation are:
Your track height

: Check out

this guide

for a visual representation. You will need to measure your track from the deepest parts at the top, and likewise for the bottom. If you have a rail in the bottom, measure as far past that.

Your track width or thickness:

This will determine if the panel you are looking at will sit snug or loose. Measure the track your slider is on from the interior side of the home to the exterior.
Vinyl or Aluminum?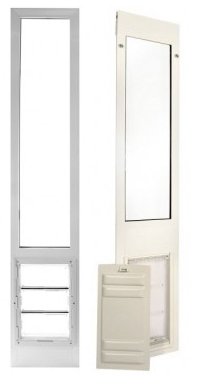 Patio panels are typically manufactured using aluminum. A common concern is for those with a vinyl slider frame. Contrary to popular belief, aluminum panels can be inserted into a vinyl sliding door. The concern with the two materials has to do with the fit. Vinyl frames tend to have wider tracks than aluminum frames.
The solution: Shim or toe-nail the panel. Shimming can make up for room on the top or bottom of the panel. To toe-nail the panel in, screws are drilled in at angle to go through the panel and into the track. This helps the panel's stability. While you may want a vinyl insert to match with your slider, be aware there are less sizing options and height ranges available. In fact, the only vinyl panels are the Ideal VPP or Ideal VIP which comes in a dog or cat version.
Security
Most panels will not mate with your existing slider lock, but they do come with an alternative locking mechanism. There are a few solutions PetDoors.com can offer. With no tools required, you can use a Clamp lock or Charley Bar. These locks can be taken off your slider any time of day. The clamp lock attaches to the bottom of your track, while the bar sits between the frame and slider. The VIP and VPP vinyl pet door in slider options actually have a lock latch that you install on the side of the panel for your lock to mate with.  So this is a great locking dog door for sliding door option, but only it you have vinyl.  Also the VIP and VPP latch lock hardware will not work properly with other slider models.  Additionally, each pet door comes with their own locking cover!
With tools required, there is a Foot Lock you can also attach to the slider. This lock is drilled in and is conveniently foot operated! You can use this lock for any slider, although it is more secure option for taller sliding glass doors.

Price Differences
There are many differences in the quality of panels, so there comes a difference in price. Here are the main points that determine price:
Height:  Almost every height range causes the price to vary, especially if your slider is not "standard" height according to a manufacturer. Custom height options will also cause a price hike.
Glass Type: This can refer to whether you purchase a panel with dual or single pane glass. You can purchase a glass type to match your existing sliding door. The difference in the two panes can impact your insulation value.
Electronic Panels: There are not panels that can read microchips for large pets, but cats and small dogs can use a SureFlap in a panel. Electronic panels for larger dogs require each pet to wear a collar key. The flaps of these High Tech pet doors are not manual, instead, they will automatically open upon reading a collar key signal.
Flap Size & Flap Type: Every flap is designed for specific purposes. Some flaps are designed to resist weather better than others, which can mean an increase in price.

There are many great benefits to a sliding glass insert. With little to no tools required, these items are great for renters or for vacation homes! No modifications are necessary, just careful measurements. As with any pet door, please take note of step over options available. Most panel inserts will not have adjustable step overs, except the Thermo Panel 3e. For other models, you can look into getting a custom step over to help your pets access their door comfortably.
In the Glass Pet Doors
Alternately, we can have a new piece of glass manufactured to fit your sliding patio dimensions. You can have an Endura Flap pet door pre-installed at the bottom of a piece of glass that will replace your current glass. These are the Custom In the Glass options.
Using a pet door that is installed in your glass allows you to use your sliding glass door's normal locking system. It also lets you use the full width of your sliding glass door when you come and go! Check with a PetDoors.com expert for more information!