Help Center & Installation Guide
Whether you are looking for professional pet door installation, or replacement parts our pet door experts will help you find the perfect fit!
Check out our Blog for tips and helpful information, or our Pet Door Glossary. If you're wondering which flap to get to replace yours, use our flap finding tool!
See our FAQ guide on DIY Pet Door Installation if you want you install your dog or cat door yourself.
We do not install pet doors. For a list of known installers in the United States please visit our installation page. Please note these companies are not affiliated with PetDoors.com
We do offer a selection of storm doors with pet door built in already, which can be installed on the outside of your existing door.
Selecting the correct flap size will ensure the pet door is comfortable for your pet for the rest of their life! The flap should sit high enough for your tallest pet to comfortably walk through without crouching, and low enough for all your pets to comfortably step through. Keep in mind that as pets grow older, it can become more difficult to pick up their paws for a pet door that is installed higher off the ground!
Find out how to measure your pet here!
There comes a time in the life of every pet door where it needs to be replaced. Maybe it just got work out, or your excited pup made it their new chew toy. But don't worry! Flaps are very easy to replace, you'll just need a little information.
You'll need to identify the brand of your pet door. Check the center of the flap for any words or symbols, or the frame of the pet door.
Note if the flap was clear vinyl, solid, rigid, flexible or opaque. These all help in identifying the brand and model of your pet door.
Measure your current flap to determine which size you need. Ordering the correct flap in the wrong size won't help you!
Flaps are not interchangeable between brands or models, the only exception being the Pride Flap which can be used to replace the flaps in discontinued Johnson and PetSafe Ultimate pet doors.
If you can't figure out what pet door you currently have, you can try using this chart to find your current door by it's measurements!
Here you'll find all the replacement flaps that we sell on our website. We cannot provide replacement flaps for discontinued models that are no longer manufactured, because no one makes them any more. If your pet door was discontinued and you cannot find replacement parts but do not wish to change the size of the hole you have in your door or wall, you can take a look at Hale Custom Dimension Pet Doors for Doors or Walls, which can be built to fit an existing opening!
There are a lot of things to consider when selecting a pet door. The most important are:
Where will you install it?
Which matters more? Quality or price?
Is insulation a concern?
Do you need something electronic or do you want a more dependable traditional style?
What qualities are important to ensure your pet will enjoy their new pet door?
You can install a pet door essentially anywhere in your home that works for both you and your pet. Sliding glass doors, windows, screens, doors, and walls are all fair game!
Price is going to be a factor for most of us, and the higher quality pet doors are going to be more expensive. A higher quality pet door will last you longer, require fewer or no replacement parts, and do a better job at keep your inside air indoors, and the outside air outdoors.
Electronic pet doors are great solutions for specific problems, such as keeping out raccoons and other intruders or keeping some pets inside while allowing others outside. Due to the nature of electronics, these electronic dog and cat doors will never be as reliable as manual style, and most require your pet to wear a collar key in order to have access.
Once you've selected your installation location, try using the filters to the left of the products to narrow down your search and find the right dog door or cat door for you!
Read more about other concerns you may have about purchasing a pet door here
Pet doors are incredible conveniences for both pet and human, but they are not always suitable for your home. If you do not have a secure enclosure for your pet to access, we do not recommend installing a pet door of any kind. The risk of your pet running away, getting stolen, or hurt by wildlife, is just not worth it!
Cats, who are not always "outside savvy", can benefit from access to a completely enclosed pen that allows them to enjoy the outdoors without the risks. This works great for small dogs as well, and for large dogs you can allow access to a secure outdoor kennel if safety is a concern.
Don't go by weight. A standard poodle and a bulldog might both weigh 50 pounds, but the poodle will be 22 inches tall while the bulldog will be 15 inches tall, and require a much wider door than the poodle!
If you have a puppy, measure the largest of the parents. If you don't know the parents, your best bet is to order a larger pet door and hope they don't outgrow it!
Follow these steps to ensure a safe, comfortable passage.
Measure your pet from feet to shoulder (If you have pets sharing, measure the tallest and the shortest)
The top of the pet door flap should be at least 1 inch above their back
The flap height + Step over = Top of the Flap
Consider how high your pet(s) are comfortable with stepping over
You do not necessarily need a flap size that is the same size as your pet, you can create a 'mock' opening to see what your pet is/isn't comfortable with
The main reasons people get electronic pet doors are to keep out intruders or keep certain pets from getting outside while allowing others out. Neither of these situations can be 100% guaranteed but using an electronic pet door can solve many of these types of problems for you! You have to keep in mind that electronic means there are moving parts that can fail and leave your pet stranded on either side, and many require batteries to function. Your pet will need to wear a collar key to access the pet door, or for smaller dogs and cats you can use a pet door that uses their microchip ID to access the dog or cat door!
Pet door purchases will come with hardware like screws necessary to install. Tools are typically not included. If you believe you are missing something from your kit, please contact us.
Just about every pet door will come with a locking mechanism by means of a locking cover (for non-electronic) or a button/tab. These locks are typically found on the inside of the home so you have full control.
What if a burglar climbs through your large sized pet door? Well, you can stop worrying. Get the Watchdog Security Pet Door Locking Cover and you've got 12 gauge steel and a steel combination lock between that burglar and your pet door. Works on doors and walls for the ultimate in pet door security. If you have a large pet door, chances are a burglar will pass over your home for one that doesn't contain a potentially dangerously large guard dog. But if someone wants to get into your house so bad that a big dog doesn't phase them, they would probably break through another way even if you didn't have a dog door.
For sliding glass door inserts, you can add a charley bar for extra security. The panel itself won't be able to be lifted from the outside, and with an added bar there is no way someone could wiggle the sliding door open.
Installation Problems for Patio Pet Doors - Leaks Around the Frame
A properly installed patio pet door, properly installed, will not leak air to any appreciable extent. Note that we are not talking about the flap area here. Different flaps from different manufacturers have different performance levels. But the frame of a patio pet door will be weather-stripped along both sides and be tight at the top and at the bottom.
In rare instances, however, this is not the case and you may experience a significant leak. What is happening here is that the frame of the sliding glass door is slightly out of square causing the patio pet door not to fit properly. There are four problem possibilities. The information below will show you the four situations and how to fix each of them.
Many folks will be able to solve these problems by themselves. If you feel that the fix is beyond your skill levels, then a local glass shop can easily do the work.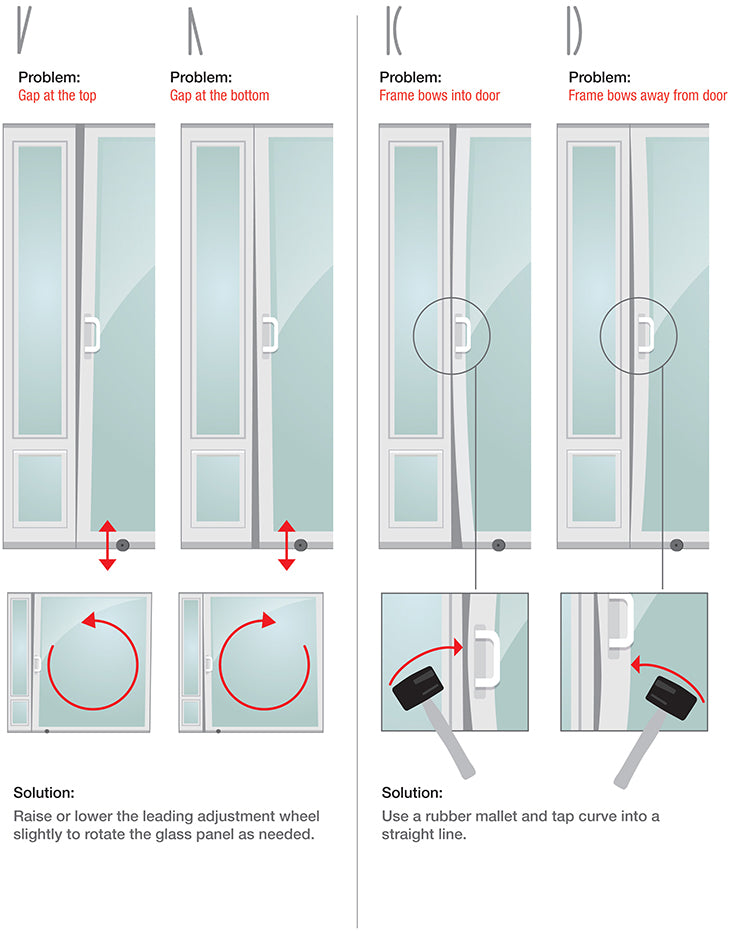 Problem: Gap at the Top or Gap at the Bottom
Typically your house has settled sllightly and the sliding glass door is no longer square to the framing supporting it. There will be an adjustment--usually a method for raising or lowering the leading wheel that the glass door rolls on. Small adjustments to this wheel height will rotate the sliding glass door to be square to the pet door.
Problem: Gap at Top and Bottom or Gap in the Middle
The vertical frame member of the sliding glass door is bowed. A rubber mallet may be used to tap this member into a straight line.
Yes! If you were looking for a new doggie door that fits right in without making any new cut-outs, we would need to know the exact dimensions of your cut-out (this is the hole you made to install the pet door). If you are okay with amending the opening, then keep in mind that for doors it is much easier to make the cut-out a little bigger than trying to shim it in to make the hole work with a smaller pet door. Feel free to chat with a customer service representative or send an email to customerservice@petdoors.com with your door model, pictures, and/or cutout dimensions and we will be happy to assist.
All of the brands available ship from within the United States. While most items come from California, we do have manufacturers in Colorado, Florida, and Washington.
Any other questions?
Try chatting with us using the green window in the bottom right corner of your screen!
We're in the office Monday through Friday, 7:00am-4:30pm Pacific Time.
Contact Us!
Having issues with your Endura Flap?
Troubleshooting the Endura Flap
How do I return a product?
Please visit our Returns Page with your original order number. This number begins with 100 and can be found in your confirmation email and shipping email.