5 Differences Between the SureFlap Microchip Door & the Cat Mate 305 Cat Door
If any pet deserves a fancy pet door, it would have to be the royalty of your household—the cat. While the original dog flap is popular for a reason (and you should never mess with tradition), there are plenty of electronic pet doors made specifically to fit the needs of you and your cat.
The Sureflap Microchip Pet Door and Cat Mate "Elite" 305 Super Selective Electronic Cat Door are two cat flaps at the top of the electronic pet door game. They seem similar on the surface, but how different are these cat doors?
The Sureflap Microchip Pet Door
Sureflap secure pet doors are the brain-child of Cambridge physicist Dr. Nick Hill. He wanted a cat door that would give his cat the freedom to go in and out as it pleases without letting in intruder animals like raccoons. His solution was to invent the first cat door with a microchip sensor-- the Sureflap Microchip Pet Door. To this day, Sureflap has continued to manufacture the best microchip cat doors on the market.
The Sureflap Microchip Pet Door markets itself as the most secure pet door out there. The microchip cat flap senses the unique serial number on your cat's microchip to lock and unlock the door. Because it is a car door with a microchip sensor, you don't need to worry about your cat losing their collar key. If your cat isn't microchipped (and they should be), the cat door comes with an RFID collar key.
The door frame comes in both brown and white to best match the surface it's installed into. It can be installed into doors 0 - 2 3/4" thick, and there are mounting adaptors and tunnel extenders available for in-wall and glass installations. 
The Cat Mate "Elite" 305 Super Selective Electronic Cat Door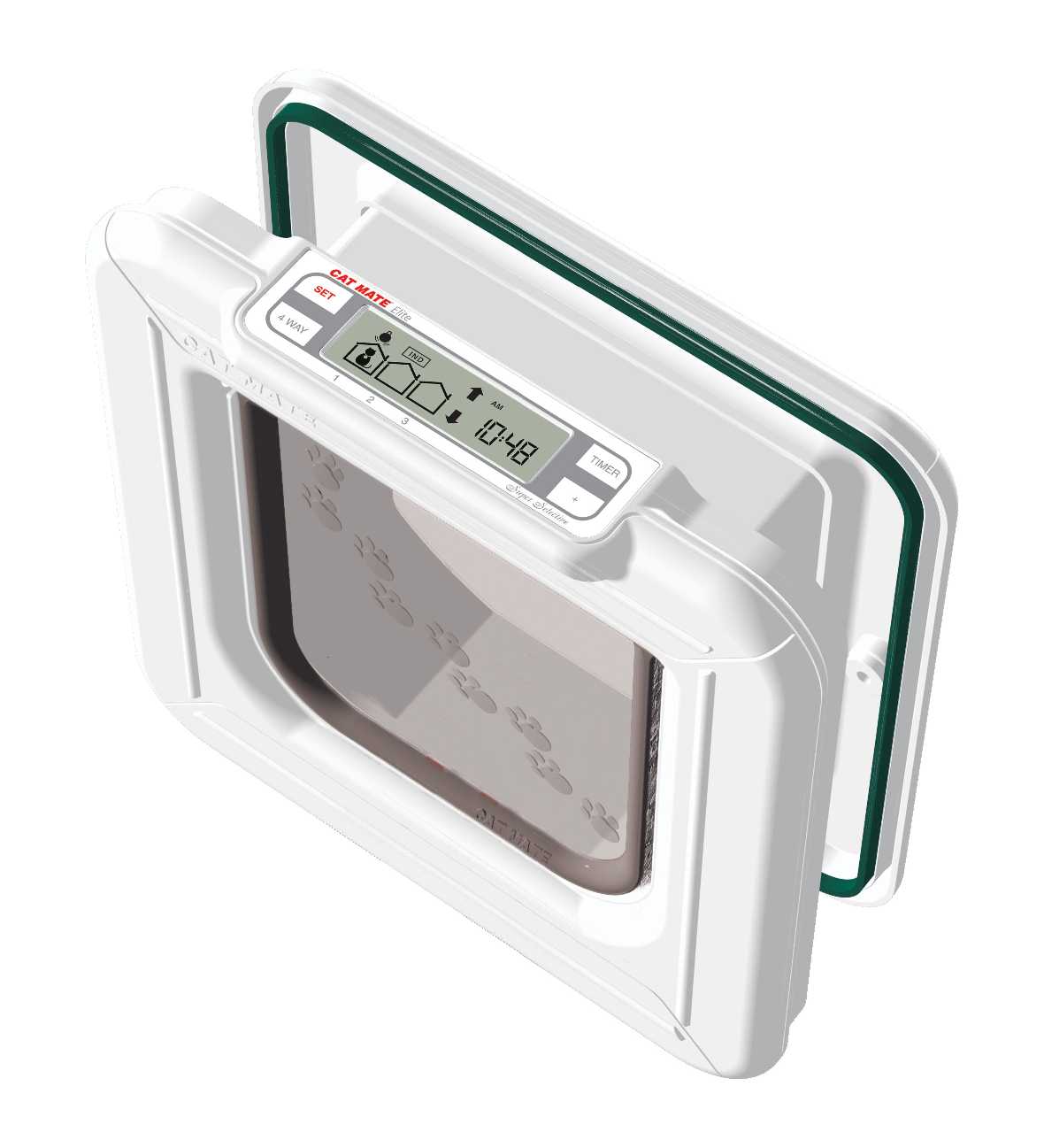 AniMate (also known as Closer Pets) is a company dedicated to creating not only top-quality pet supplies, but also protecting the environment as they do so. The Cat Mate 305 is a part of their line of cat doors and is one of the best electronic pet doors out there. It's a four-way locking pet door, meaning that it can be set to one of four settings: out only, in only, completely open, and completely closed.
Each cat door comes with an RFID sensor that detects the RFID collar key attached to your cat's collar. They require no batteries and are water-resistant, meaning that you don't have to worry about your smart pet door accidentally locking your cat outside. The door comes with two collar tags, but more can be purchased at a low cost.
The Cat Mate 305 is a self-lining electric door that fits materials 0-2" thick. A wall framing kit and wall liners are available if you would like to install it into a wall that is thicker than 2 inches.
Another wall mount option would be the Cat Mate 234 & 235 Cat Door for Walls.
 
What's the Difference?
The Sureflap Microchip Pet Door and the Cat Mate cat door are both secure pet doors that will let your cat come and go while keeping intruder critters out. With the use of mounting adaptors, these electronic smart doors can even be installed anywhere from your door to your wall or window. They both seem like they do the same thing, but the two cat doors differ in major ways:
The Cat Mate "Elite" 305 Super Selective is not a microchip cat door. You have to use an RFID collar key with it, which may be cumbersome for some cats.
The Sureflap Microchip Pet Door can fit large cats and small dogs. Admittedly, electronic pet doors are not the most accessible option for pet owners with larger animals. While electric pet doors are convenient, it's always most important that you make sure your flap is the right size for your pet. Sureflap's flap is 7"x7", meaning that it is large enough for bigger cats and some small dogs. Meanwhile, the Cat Mate 305 only has a 6"x6" flap.
The Cat Mate 305 stores fewer identities than the Sureflap. The Cat Mate door can remember the collar keys of up to 9 pets, while the Sureflap can remember the microchip numbers of 32 cats. However, unless you run a pet sanctuary, you most likely would not need that many saved identities.
The Sureflap Microchip Pet Door has custom locking settings. A tech-savvy pet owner can program the Sureflap door to be raccoon-resistant, as well as have a curfew mode that automatically guarantees that your cats are inside when nightfalls. The Cat Mate only has a timer that can be disabled to make it a four-way locking pet door. Otherwise, you would need to manually adjust settings for the Cat Mare 305, which you may prefer if you're a bit more old fashioned.
The Cat Mate is better priced than the Sureflap. Currently, the Cat Mate is about 25% cheaper than the Sureflap, which fits a larger variety of budgets.
The Cat Mate cat door and the Sureflap Microchip pet door are both great electric pet doors that have their own benefits and pitfalls. Between the two, we prefer the Cat Mate. While it does not have the same microchip sensors as the Sureflap, it still allows you to manage your cat's movements-- and at a fraction of the price. 
1 comment