Cat Doors For Sliding Glass Doors
View installation FAQs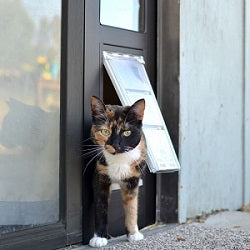 A sliding glass door cat flap consists of a regular cat flap designed for installation in a regular door actually installed in an opening at the bottom of a panel pet door. These cat flaps can be either the manual design or electronic design. But in every case, if you examine the cat door portion of the cat patio pet doors in this section, you'll recognize it from the same door in areas of this site devoted to cat doors for doors.
That said, the same benefits and disadvantage apply in both places. Because cat flaps tend to be inexpensive, they contribute to a less expensive patio pet door. Because they have rigid flaps, they can incorporate a two-way, or more commonly, a 4-way locking device in the cat door itself. No need to keep track of a separate locking cover. Because their flaps are rigid they will hold their shape over years of use which, in turn means that they'll maintain their sealing values better than most (but not all!) flexible flap pet doors.
On the other hand, insulation values, as distinct from sealing values, are not particularly high because what you have is a thin piece of acrylic or polycarbonate that has about the same insulating value as a single pane window. That is, not very good.
Cat patio door choices have many more electronic options than the large dog doors. There are magnetic, rfid, and microchip doors just depending on your situation we have one that will work in any application!
Note for cat sliding glass door installations shorter than about 75" or taller than about 96", please see "Custom-Unusual -> Custom Dimension Pet Doors" for more choices.
How to Install Cat Door in Sliding Glass Door
Place the panel of the cat door onto your sliding glass door track and adjust its spring-loaded top along with the thumbscrews.
Push it against the interior wall and tighten up the thumbscrews.
Now apply weather stripping to provide a seal between the cat door and the sliding glass door.
Drill a hole to mount the locking pin on the edge of the sliding door. Also, deep drilling is not advised in order to prevent the glass or the glass seal from damage
.
What options do I have for a cat door for glass door?
If the glass is not tempered you can cut a hole in the glass and use a pet door that mounts in Glass like the Sureflap Pet Door or Dual Scan, both of which require a glass mounting adapter. If your glass is tempered you will need to replace the glass and have a hole for the cat door cut before the glass is tempered, or you can install a Pet Door Guys "In the Glass" replacement glass unit. These options will require the hirging of a glazier or glass company..