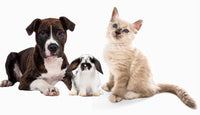 Shop the World's Largest Selection of Built-to-Last, Weather-Tight Pet Doors...

...keeping your home insulated, secure, and "pet accident" free!

All Pets
Here's how it works...
Whether you're a dog, cat, rabbit, turtle person, we have a pet door option for you!

SELECT YOUR INSTALLATION METHOD

Where do you want to install the per door? In your door, wall, sliding door, etc.

Follow our measuring guides to ensure right size pet door to fit your pet's needs

Choose frame color, size, and other options to find the best option for your home

We offer fast shipping in the U.S. and easy returns!
Check Out Our Best Selling Pet Doors For 2022!

What's the #1 Thing People Say About Our Pet Doors? That They're 100% Worth It.
Every day we hear from delighted customers who tell us stories of how their pet doors have radically reduced their stress levels, cut their home expenses, and above all, improved their pet's happiness. 
500,000+ ECSTATIC CUSTOMERS AND COUNTING
FOR ENERGETIC ANIMALS: Sturdy, Tough-as-Nails Pet Doors
✓ Heavy-duty aluminum frames for extra durability
✓ Secure locking covers for when you're away
✓ Hinged flaps designed to prevent tearing & chipping
✓ Large flap sizes for giant-breed dogs
Check out our large dog doors


FOR EXTREME WEATHER: Draft & Weather-Tight Pet Doors
✓ Stand up to UV exposure equal to 2 years of Florida sun
✓ Flexible and tight-sealed even at -40°F
✓ Withstand winds greater than 50 mph
✓ Energy efficiency equivalent to dual-pane glass
Check out our extreme weather pet doors
FOR KEEPING WILD CRITTERS OUT: Electronic & Microchip Pet Doors
✓ Keep mice, lizards & raccoons outdoors
✓ Use your pet's microchip ID or a key collar
✓ Prevent strays from entering your home
✓ Keep one pet in while letting one pet out
Check out our ELECTRONIC pet doors

Fast Shipping & Easy Returns
Enjoy Easy, Painless & Fast Returns
• 30-Day Returns
• Quick Refunds
• Shop Worry-Free
Get An Expert's Take On Your Order
• Personalized Service
• Professional Order Review
• Step-by Step Live Help
Get Unparalleled Support & Expertise
• 30 Years of Experience
• Chat, Phone & Email Support
• Friendly, Real People