10 DIY Tips for Installing a Dog Door in Your Sliding Door
Installing a dog door in a sliding glass door has become a sought-after solution for many pet owners. Maybe you are looking to install a dog flap or cat flap to let your pet out to potty, but a sliding glass door is the only available space to do so. Maybe you do not want to cause damage to a door frame or wall by cutting into it.
Whether you want to give your dog the freedom to roam or avoid unnecessary damage to your door frame, here are 10 tips to guide you:
1) Determine The Type of Sliding Glass Door Dog Door You Want:
There are a couple of ways to install a pet door into a sliding glass door, each with different levels of difficulty: 
In the Glass: Pioneered by the Pet Door Guys, this is a glass pane with a pet door installed directly into it that replaces an existing glass panel in your sliding door. It's energy-efficient, space-saving, and locks just like the standard glass. The Pet Door Guys model even uses the award-winning Endura Flap pet door. 
Through the Glass: These pet doors can be installed directly into the glass of your sliding glass door without needing to replace your entire glass frame. A glazier will cut a hole in your glass and install a pet door into it. This is ideal for smaller pets, but always get a professional for this to avoid shattered glass.
Patio Panel Inserts: These are non-permanent pet door inserts that fit into the frame of your sliding door. Most panels have a pet door at the bottom and glass at the top to let sunlight in. They reduce the amount of walkway space in your sliding glass door, but many customers prefer their easy installation. 
Window Inserts: If you are hesitant to install a pet door into your sliding glass door, then your window may be the perfect compromise. Many panels for horizontal sliding windows are shorter versions of their patio panel insert cousins, but there are also inserts specially made for sash windows. Many window inserts even have electronic pet doors that control pet access via their microchips or RFID collar keys. 
2) Make Sure You Can Lock Your Slider: 
Most sliding door dog door inserts won't align with your existing lock, which can be a security risk for your home. If you want to be able to still use the lock on your slider, then installing directly into the glass of your sliding glass door will be the best solution for you.
If you want to use a patio pet door panel insert, then purchasing an additional locking device may be necessary. There are plenty of foot locks and c-lamps that can get the job done just fine, but we recommend getting a charley bar to seal your door shut overnight.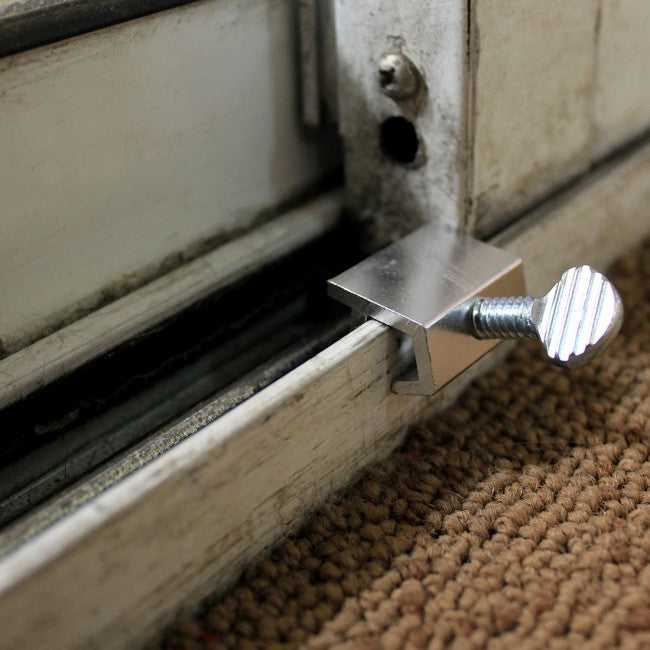 3) Take Energy Efficiency Into Account: 
Different types of sliding glass door pet doors will have different levels of weather and draft protection. The most effective against cold and heat leakage are the In the Glass and the Through the Glass pet doors. 
If you have a panel insert, you will need to check that you have an energy efficient pet door flap. We recommend one with strong magnetic closures to keep it sealed against the window and a dual flap system, such as the Severe Weather Vinyl Panel. 
4) Check Out Electronic and Automatic Options: 
While manual flaps are a classic and reliable option, you may be interested in exploring pet doors with an electronic component to them. These doors use your pet's microchip or a RFID collar key to control which pets can access the door. 
While there are not many options available for sliding glass doors right now, we still highly recommend the High Tech Power Pet Patio Pet Door (Original and WiFi).
5) Ensure You Have the Best Weatherproofing: 
For areas with extreme weather conditions, consider pet doors that are made to withstand intense cold or heat. Look for pet doors that have a double flap system, magnetically-sealed flaps, and dual pane glass. Some of our favorites include the Endura Flap Thermo Panel 3e with Dual Pane Glass, the Petsafe Extreme Weather Patio Panel, and the High Tech Armor Flex Patio Pet Door.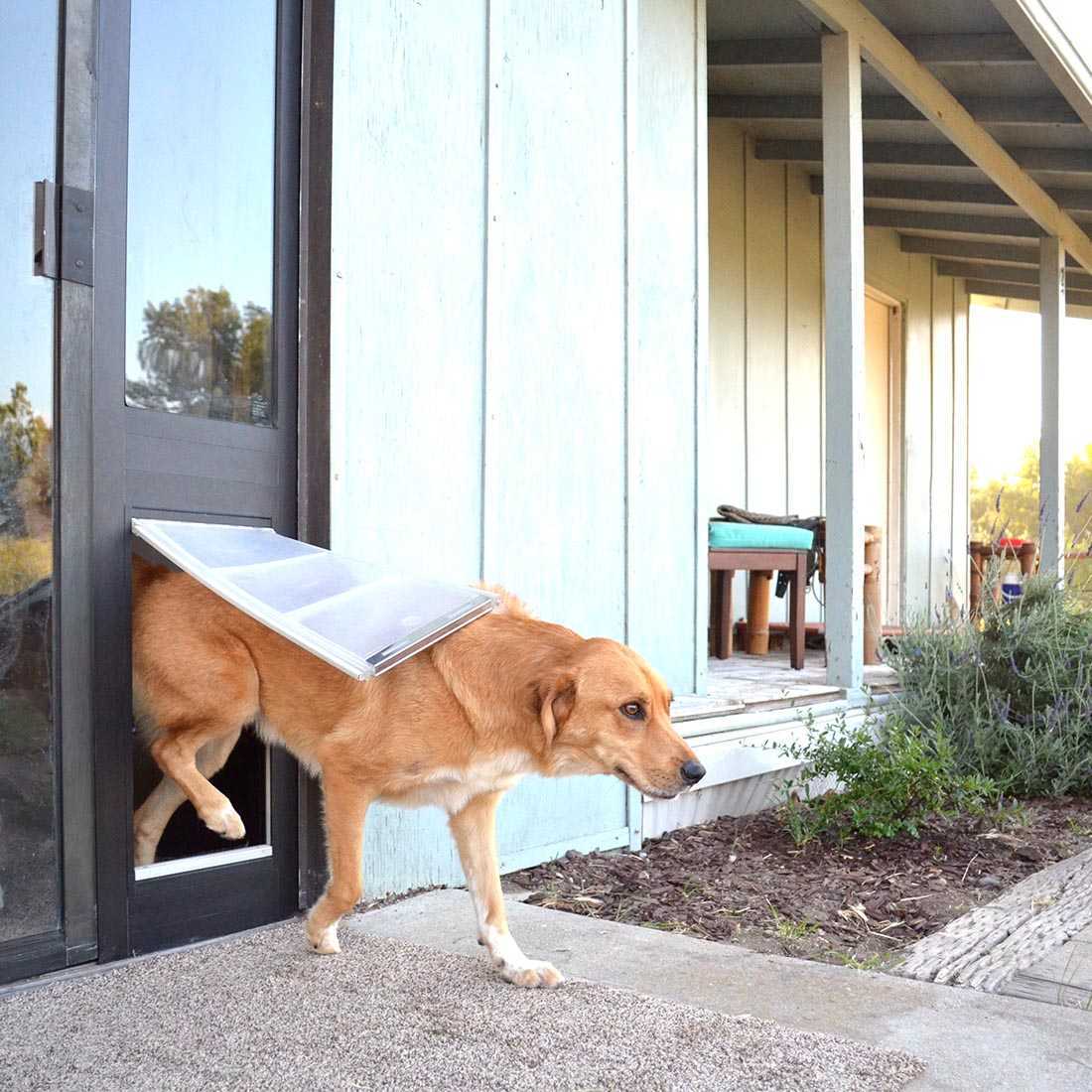 To prevent drafts caused by the panel, you can insulate its sides with weatherstripping or a draftstopper. 
6) Ensure You Have the Right Size Pet Door: 
Getting the correct pet door size for your pet ensures that they can use their pet door for a long time without experiencing any discomfort or harm. Make sure your pet door is at least 1" higher than the tallest point on your pet's back and that the step-over is not difficult for your pet to walk over. 
You can check out our measurement guide for more details. One of the best ways to guarantee that you have the best fit is to get a customizable pet door, like the Ideal Fast Fit, which has a custom step-over height. 
7) Take Accurate Sliding Glass Door Measurements: 
If you are installing a pet door directly into your slider's glass pane, then you will need to higher a glazier. These pet doors are made to order and non-refundable, which means that getting precise measurements of your glass and sliding door is vital. Plus, a professional glazier will also be able to install the new glass pane for you. 
Luckily, patio panel inserts don't require professional help to measure.You will just need to know how tall your sliding glass door is so that you can order a panel within the correct adjustment range. 
To measure your sliding glass door, check out this video:
You will need to measure your sliding glass door track from the lowest point of the track to it's tallest. From there, you can select the adjustment height range that your slider's height falls into.
Tip: If your slider is on the cusp of two height ranges, go with the larger range. This will give you a tighter fit, and many panels that are too tall can be trimmed down to size while panels that are too small will need to be returned. 
If your sliding glass door height does not fall into any of the panel's adjustment ranges, you can check to see if it has a custom height option. Make sure your sliding glass door's measurements are accurate, as custom pet doors are made to order and non-refundable. 
8) Ordering The Correct Pet Door: 
Once you know what type of pet door your want, you can order it directly from the product page. 
If you are purchase an In the Glass pet door, you may receive an email with an order form, like the one below:
Give this form to your glazier to fill out. Make sure all of the information is accurate.
Ordering panels is much simpler, but if you are ordering a custom panel height, you will need to provide your sliding glass door track's height on your order. Make sure to provide the height exactly. We will calculate your adjustment range based on it. 
9) Factor In Manufacturing Time: 
Unlike traditional pet doors, pet doors for sliding glass doors may take 3-4 weeks to reach you. Even standardized sliding glass door dog doors are made to order and require materials that may take time to procure, especially ones made within the United States. Plus, these doggie doors are so heavy that they will take longer to delivery.
This extra time may be inconvenient, but quality, USA-made pet doors are worth the extra days needed to build and ship. If you have any concerns about timing, let our pet door team know so that we can find a solution that works best for you. 
10) Get Installation Help & Follow Instructions: 
If you purchase an In the Glass or Through the Glass pet door, hiring a professional for installation is necessary, if not vital. Professional glaziers can replace your entire glass pane or cut a hole in your current one without shattering the glass. 
While every panel insert is a little different, most are installed the same way. You can watch the video below to see how:
Generally, you will need to slide the panel into your sliding glass door track. Then, you adjust the height until it is locked into place. For a more permanent installation, you can secure the panel into your track with a screw drilled through the bottom. 
With all of these points in mind, you should be able to smoothly pick and install your pet door. Remember, while DIY literally means "do it yourself," sometimes professional assistance is need to ensure the job is done safely and correctly, especially with glass installations.
6 comments