Sliding Glass Dog Doors
View installation FAQs
Patio Panel Pet Door for Sliding Glass Door
Patio panel pet doors go by many names, but they all offer great solutions to add a doggie door or cat door to your sliding glass door. No need to cut a hole in a door or wall. No need to modify your sliding glass door framing. When you move, take it with you. Look below for some of the best pet doors for sliding glass doors.
Note: For a sliding glass pet door shorter than about 75" or taller than about 96", please see Custom Dimension Pet Doors for more choices.
How does a sliding glass door pet door work?
Pet doors for sliding glass doors are panels that sit in the track of your sliding glass door (or window) that have glass on the top portion and a pet door at the bottom. The slider of your door or window will slide against the panel instead of sliding all the way to the wall.
How is the pet door secured in my track?
Most panels have some type of pressure system at the top that expands to the height of your track, and then is locked in place so that the panel cannot be removed from the track. Some panels do require you to drill a hole through your track to secure the panel, but most are no tools required.
The Thermo Panel 3e and the Ideal Fast Fit are our two biggest sellers because they do not require any tools to be installed. To see all the 'no tools required' options, click here.
How do I lock my door?
Most panels will include an alternative locking system, as they cannot use your existing lock. Clamp locks or deadbolt type locks can be used behind the sliding door, or you can use a Charley Bar. The only patio panel insert that uses your existing lock is specifically made for vinyl sliding glass doors, called the Ideal VIP 150.
Can you buy the entire glass door or is it just the pet door insert?
The In the Glass Unit will ship to you as one entire piece of glass with a pet door pre-installed. However, we do not provide a new patio frame. Other items will be just the insert.

Click below to expand:
Will the pet door keep out the weather?
Some pet doors guard against the weather better than others. A well made pet door will keep the weather outside while letting your pets inside, as well as be durable enough to withstand the elements! Top choices for weather-proof dog and cat doors for sliding glass doors would be brands like Endura Flap (Thermo Panel 3e) and Hale (Omni and Standard Panels).
You pay for quality, so when you buy a more expensive pet door you are buying a higher degree of energy efficiency as well as durability. Better insulated pet doors will save you money on your AC/heating bills by keeping more of your heated or cooled air inside. Higher quality pet doors require less in replacement parts, and usually carry better warranties than lower quality options. You are paying for the quality of the materials: glass, metal, and the flap all play a role in how well the pet door will perform.
Why is the Thermo Panel so expensive? Pricing takes into consideration the materials and overall durability of the pet door panel. The Endura Flap Thermo Panel is made to last with durable aluminum framing, dual pane glass, and the best dog door on the market. With a warranty of 15 years, this model can outlast extreme weather and permit the most active pets. With this model, you really get what you pay for and would be one of many satisfied pet owners.
Will I have to replace flaps and parts every year?
Depends on the pet door you choose! Higher quality pet doors may not require replacement parts for your pet's entire life, while less expensive pet doors might need new flaps as often as once a year depending on climate and use. In general small dog patio doors tend to last a little longer as smaller pets tend to go a little easier on the flaps. If you don't want to replace flaps, investing in one of the more expensive pet doors can pay off in the long run.
How to seal a sliding glass door with a dog door?
Attach adhesive weather stripping to both sides of the panel insert. Most inserts will come with some.
Insert the panel so the top piece is secured to the frame. Most sliding glass inserts will have a height adjuster to lock in place.
When the slider is shut against the panel, the weather stripping will close off any potential gaps.
Panel inserts will often come with a locking mechanism to seal your slider against the dog door.
The most common are "General Purpose" models intended to adapt to virtually any sliding glass door. They normally come in a variety of sizes and may be "spring-loaded" for easy put-in and take-out or they may be toe-nailed in your track. The "spring-loads" are the most popular and common.
In recent years vinyl framed sliding glass doors have become much more common and there are doggie doors for sliding glass doors designed specifically for that situation. We suggest starting with these and then moving to a general purpose type if there is some feature missing or if it doesn't seem to meet your needs.
Finally, there are a few magnetic-operated or motorized panels that may be used to control access. Your pet may come and go but intruders are kept out. You might also want this type if you're trying to let the dog out but keep a cat or other animal in.
Important considerations
There are three that are most important:
In choosing a pet patio door it is vital to know that your track height is in the adjustment range of the door you have chosen.
Secondly, you must be sure that the flap size and step-over is appropriate for your pet.
Finally you need to be sure that you'll have room to walk out yourself if you have a pet patio panel in place! If not, and you'd still like to use your patio door, take a look at the through the glass category page.
As well, there are quite a few other details that might be important for you to think about in purchasing any panel pet door. Begin with key points to get a quick overview of the most important issues. Then study the comparison chart and read the information on the patio panel FAQ's on this page which cover the fine points of sliding dog doors.
Important note
These pet doors for sliding glass doors aren't only for dogs. In fact, they may be a better choice for cats than the ones intended specifically for cats! The reason is that each manufacturer generally offers a "Small" size and the flaps are all flexible and, therefore, safer than rigid "cat flaps".
Measure the height of your sliding glass door track
Don't just assume that 'it's standard' as they do vary. Using a ruler, measure inside the track, very top to very bottom (see the illustration in the patio panel FAQ section). Always compare your track height to the adjustment ranges shown for the various pet doors. Endura Flap offers custom heights for odd-sized sliders and windows. Most others don't.
Determine how wide the flap needs to be
Open your sliding glass door wide enough for your pet to come through comfortably. Allow room for growth as needed. There's your minimum width. Don't buy a flap that isn't at least that wide.
Determine the flap height and step-over dimensions you need
Ideally, the top of the flap will be at least as tall as the top of the pet at his 'withers' (top of his shoulders). That way he doesn't have to crouch to use the pet door. The 'step-over' dimension is the height of the bottom of the flap above the base of the pet door. That's how much he has to step over.
So, flap height plus step-over is the height of the top of the flap.
Generally, the lower the step-over the better. Especially when your pet is older or arthritic. So you might prefer a flap 17" tall with a 3" step-over to one with a 15" height and 5" step-over. Both reach 20" at the top, but the taller flap yields a lower step-over.
More flap and less step-over can also be helpful if you've got a small pet that needs to share with a larger one.
A pet door that incorporates a user adjustable step-over makes it simpler and offers more flexibility for the future. These are only available with Endura Flap pet panels.
Check the color and material of your framing
Most brands are available in white, satin (aluminum color) or bronze (very dark brown). You can paint any of these to get a different color if you wish but the easiest to paint is the white. Check with your local paint shop for primer and paint recommendations.
The material in which you are installing the insert does not affect the actual installation or performance of the pet panel so much as the measurements. Your track height and thickness need to match up with that of a patio panel, and typically pet panels will sit on a rail at the bottom of your track. Be sure to check these things before purchase.
See if you have dual-pane glass
If you want dual-pane glass, how about Low "E" also?
This coating on the inside of dual pane glass units performs much better than regular glass in insulating your home.
How can I install a patio pet door if my sliders meet in the middle?
Installation can work the same way. In order for the panel insert to remain secure and stable, you will need to make one of your sliders stationary. In essence, you will only be allowed to slide and walk through 1 of your 2 sliders.
Does my glass in my slider need to match the glass in the dog insert?
No, we have single and dual pane inserts available but the installation will be the same. The reason to match might depend on aesthetics and fit. Dual pane does offer better insulation, so if you have single pane in your slider you can still consider this option. The biggest deterrent might be the thickness of the panel versus the thickness of your slider's track. Be sure to check whether the panel will fit by taking a look at its minimum track width.
Are you looking for high wind resistance--so you want higher magnet strength on the flap--or are you planning to share a larger flap between a big dog and a smaller dog or cat--so you may need less resistance, especially at the bottom of the flap?
A Variable Magnet Strength Flap will give you enormous flexibility from extremely wind resistant to very easy to push and everywhere in between. Look for this feature if you think you may have a need. Pet
See if you've got vinyl frames
There is more standardization in the newer vinyl framed panel doors. Some patio pet doors are manufactured exclusively for this application.
Worried about bugs flying in between the patio pet door and the screen?
Check out the Bug Warden. If you ever keep your sliding glass door open for ventilation, this is a 'must' product.
There are numerous methods for locking your house when using a pet door panel or cat door for sliding glass door:
1. Those panel pet doors designed for a semi-permanent installation only will have a lock built into the pet door that you will use instead of the lock on your sliding glass door. That lock will engage a bracket mounted on your sliding glass door above your existing lock and locks the sliding door to the pet door. This system requires that the pet door be fastened semi-permanently in place. The panels that use this method would be:
2. A second approach is to use a pin lock, c-clamp lock or dead-bolt lock to lock the glass door against the pet door. These can be used for both temporary and semi-permanent types of installations and are extremely effective. Note that pin locks are most readily used when the sliding panel is on the inside track. If it is on the outside track (an uncommon situation), it may be easier to install a threshold mount dead-bolt type lock. These are available from us in the Flaps and Parts->Accessories section but also in any local hardware.
3. Some very specialized pet patio doors will actually mate to the lock on your sliding glass door. These doors would be the Ideal VIP Panel and the Ideal VPP Panel.
4. A great idea is to use a 'Charley Bar'. The Charley Bar mounts behind the sliding glass door on the jamb and locks the sliding glass door against the pet door. You don't need a pet door to use a Charley Bar. They're frequently used just to improve the security of a sliding glass door. When used with a pet door, the Charley Bar has an important added benefit. The pressure applied is near the center of the sliding glass door which results in more even pressure between the sliding door and the pet door. This, in turn, helps make a tighter seal between the two and reduces the chance of a leak.
How to Install a Charley Bar (Video)
My sliding glass door has 2 sliding doors. Do you have any patio panel pet door inserts that will work for this type of door?
Depending on the track setup we have had customers install the Thermo Panel 3e in this type of sliding door. However, a good way to install them is to move one of your sliding glass doors over offsetting it. Then install that sliding glass door pet door and make the offset slider stationary, serving as the wall.
Will the aluminum panel fit with my vinyl slider track?
Sometimes the aluminum panels are not as wide as the tracks on the vinyl sliders, as typically they tend to be about 7/8" to 1" in thickness. In some cases customers have actually shimmed in at the top and bottom to make up for any wiggle room in front or behind the panel. Or they have toe-nailed the panel in, where the screws are installed at an angle to go through the panel and into the track, making the installation more semi-permanent. In other cases the doors have fit in just fine and been perfectly stable, even if the facing of the frames are not flush with each when viewed from the interior of the house, it is merely an aesthetic issue. Many customer have to go with the aluminum sliders simply because the doors specifically for vinyl have very limited flap dimensions and height ranges available.
'Step-Over' is the height that the flap is raised above the ground. So a Bassett Hound and a Doberman may both be able to use a typical 'large' size flap but only if the 'step-over' is set low for the Bassett and higher for the Dobe. The rule is that you want the step-over to be tall enough to get the top of the flap at least as tall as the height of the pet at the top of his shoulder (we say at least an inch above is preferred). So, if you are using a 10"x15" flap for a dog standing 22" at the withers, you'd like the step-over to be at least 7".
But that isn't the end of the story. What happens when the dog gets older or arthritic and has trouble stepping over 7"? Then you'll wish you had bought a taller flap with a lower step-over!
So one thing to look for in a flap is 'aspect ratio' which is the ratio of the height to the width. Taller aspect ratio flaps allow for lower step-overs for a given width.
A doggy door with an adjustable step over range has removable cross pieces above and below the flap that can be rearranged based upon whether or not you want your step over raised or lowered, and all you would need is a Phillips head screwdriver. The patented user adjustable step-over feature in the Thermo Panel 3e or Quick Panel 3 provides great flexibility both now and in the future. What if your tall dog goes to the Rainbow Bridge and you replace him with a shorter one (from the local shelter, of course!)? Now the little guy can't manage the step-over that was easy for the big guy. But you can simply lower the step-over! Neat!
You can simply buy a larger size in a different brand, of course, to get more flap height. But then you'll be getting more width than you need in addition to the height. Major disadvantages of excess width include loss of space in the opening for people use and additional cost.
When measuring for the proper rise, take a look at the image. You want the top of the pet door at least 1" above the tallest point of the back, in other words the top of the flap should be C+1". Take a look at our measure your pet page for more info!
How do I know the correct track position to install the panel pet door in?
Many choose to install their sliding glass pet door in the glass track against the sliding door jamb. Then the sliding glass door opens and closes against it. The pet door is always stationary.
Some choose an outside screen track. In that case, we suggest you use a 'spring-load' (no tools installation) type that is particularly thin such as the Ideal Fast Fit. If the glass track height and screen track height are close enough in width, you may be able to move the sliding door pet door from one another as the weather dictates.
Please notice that the thickness of the pet door will not be the same as the thickness of your track. There are too many track widths to make a separate panel for each one and so no manufacturer does. They are all built on the 'thin' side in order to make it compatible with any sliding door track. Properly installed, this fact is not noticeable.
The vinyl-framed pet doors will be thicker to more nearly match vinyl-framed sliding glass doors.
The 'Overall Panel Width' column under the size chart will tell you how wide each panel is. You can find out if there is enough space to still use your sliding glass door by subtracting the overall panel width of the pet door from the total width of the opening of your sliding glass door.
After fitting your pet, be sure the remaining opening in your sliding door fits you. If it's tight and this situation displeases you, look for a dog door sliding glass door with a higher aspect ratio for the flap. For example, why get a 14" x 23" flap if your pet can easily use a 12" x 23"? You just saved two inches. Or you can put a pet door directly through the glass of your sliding glass door: See Pet Doors "Through The Glass" Category Page..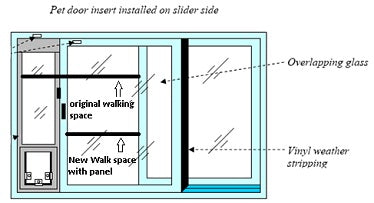 A newer type of dog door for sliding door are built specifically for installation in vinyl framed sliding glass door tracks. We think they're a great choice because, with vinyl frames themselves, they look more like they "belong" and will generally engage with the lock on your sliding glass door.
However, there are disadvantages as well. They're relatively hard to install, they're not easily removable, and they come in a very limited range of flap sizes and 'step-over' heights. Based on our customer experience we find some prefer the vinyl specific option, while others have decided on the more general-purpose dog doors for sliding glass doors to get a broader range of feature choices. The best two pet panels recommended specifically for vinyl sliding doors would be:
If you can move over your stationary glass to accommodate the pet door insert, then you can certainly install a pet door on that side! Doing this will allow you to use your current locking system.
A temporary installation doggie door for sliding glass door may be put in and taken out again easily. This would be the better option if you do not want the panel to be located in one position all the time. For example, you may wish to use the panel only during warm weather or only when you are at home. Having a temporary panel presents a flexible solution.
A semi-permanent pet door for sliding glass door, on the other hand, must be fastened into the track. The panel must be fastened because the manufacturer has put a lock on the pet door which mates to a bracket on the sliding glass door. For that lock to work, the panel must be fastened in place. To make the installation semi-permanent, you can nail the panel into the track on the top and/or bottom. Note: Any modifications to the panel will void the warranty and return policy.
On top of those two options there is a group of pet doors for sliding doors that are neither a temporary install nor a semi-permanent install, but somewhere in between. That is, they may require tools to set up but are not fastened into your track.
If a semi-permanent install is desired and your sliding glass door uses an alarm, it is possible to install the panel on the side of the stationary half of the sliding glass door. This type of installation may help avoid needing to reset your alarm system. Keep in mind that every sliding glass door's stationary panel is different, so moving and reinstalling tactics vary and does not have one specific answer that would suffice.
Another installation possibility that is commonly overlooked, is that all pet doors that are designed for temporary installation may be made semi-permanent by fastening them into the track with sheet metal screws. A temporary type panel has the broadest range of installation choices.
Will the panel interfere with my alarm system?
It is possible that a pet door insert in our patio door may interfere with your alarm system. You will want to check with your alarm company to determine how this can be avoided.
Will bugs be able to come through the doorway, between the sliding glass door doggie door and sliding screen door?
ou can still get ventilation with a glass track installation by opening the sliding glass door and bringing the screen up even with the pet door. But how do you stop a bug from flying in between the screen and the pet panel?
The best solution to this problem is the Bug Warden which was specifically designed by a Southern California engineer. These can be purchased individually and are sometimes available at a discount with the purchase of selected sliding glass pet doors.
The Dreaded "Bug Gap"
Measure the inside of the track with measuring tape or a ruler from the deepest part up inside the top track and down into the deepest part down inside the bottom track. Don't assume that it's a "standard" size track, it's very important to have accurate measurements. Always compare your track height to adjustment ranges shown for the various dog doors. Endura Flap offers custom heights for odd-sized sliders and windows. Hale panels require a slightly different measuring method (Standard and Omni panel), these products require you to measure from deepest part of the bottom track up to the track wall, or first feature you touch, when measuring to the top of the track.
Measuring for a Patio Panel
Measuring for a Hale Standard/Omni Panel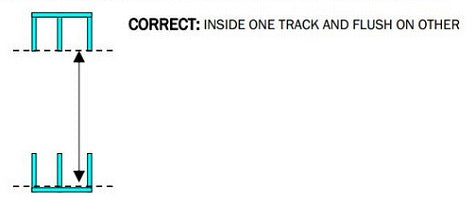 At which height over 74 3/4" would a sliding door dog door insert need to be custom?
80 ¼" is the maximum height of the more standard sizes. Anything between 80 ¼" - 93 1/4", would need to be a custom order. Furthermore, there is a tall height range, and anything above the maximum of the tall height range which is 96 ¼" will need to be custom ordered.
Can I return a doggy door for sliding glass door after purchase?
Yes, our regular return policy applies to all sliding glass patio doors except custom doors. However, be aware that there are 2 specific situations that would make the return more difficult:
First, a common return issue presents itself if, upon your installation of your doggy door for sliding glass door you apply the weather-strip to the edge of the panel, and soon after realize you want to return the product. This creates a considerable amount of labor in manufacturing in order to fully remove that weather-strip. In some cases, the panel must be rebuilt completely. All these labor costs will be deducted from your refund or; if the damage is severe enough the return may not be accepted at all.
Does PetDoors.com have a door option if my current sliding glass door is a dual pane/insulated glass door?
If your sliding glass door is dual paned/insulated you may be glad to know that PetDoors has a number of dog doors for glass doors available for your specific situation. A few options available offer a low "E" coating for even better performance. The low "E" feature is especially important in extreme weathers as it keeps the heat from escaping the house on a cold, snowy day and visa versa; it keeps the cool air in on a hot sunny day. Also, low outside temperatures combined with moist, warm air inside can result in condensation on the inside of any glass window including that in a dog door for sliding glass door. Dual pane, low "E" glass can greatly reduce or eliminate this problem. Three great options, for dual pane/low "E" coating doors, PetDoors can provide for you would be:
In more temperate climates, single pane glass may be perfectly adequate. After all, the area of the glass in a pet door is pretty small and won't make much difference in mild climates. Three other options for single pane glass doors are:
I am trying to decide between an Aluminum panel and Vinyl panel, what are a few major differences in the two?
When considering the two options, we recommend basing the decision on the type of climate you are living in, and also whether or not you want the panel to be semi-permanent or temporary. The aluminum option would be better in a warmer climate, where Vinyl is better in colder climates because aluminum creates condensation on the door from the cold climate. On the other hand, Aluminum would be the better option if your major concern is the ease of removability. The Vinyl option would be a semi-permanent installation and less easy to remove. Also with the vinyl your track has to be 1-½" - 1-¾", and the flap sizes are fairly restrictive so for larger pets the aluminum might be the only option.
What kind of panel would I need to install for a sliding window location?
A sideways sliding window is just like a sliding glass door but shorter. So you'll be purchasing a panel pet door built 'custom height undersized'.
Two things to remember:
First, you must measure the width of your window track as pet doors for sliding windows will generally be 1" in thickness. If your measurement of the track is less than 1" give us a call and we can discuss some other options for you.
Secondly, the height you are specifying will be unusual enough that it must be a final sale--no return after manufacture. You will find these undersized units on the For Windows category page.
Custom height orders must be in writing, so the easiest way is to order directly from the web site.
If your window slides up and down then you'll want a pet door for a sash window which is designed for that specific window type. A number of models are available at the Custom Dimension Pet Doors category page.
Under which height for a sliding dog door would it need to be custom?
If your height measurement is less than 74 3/4" then you would need to order a custom dog door sliding glass.
What is the potential problem with getting a dog door with the range 74 3/4"-77 3/4" for a track height of 74 3/4"?
Since 74 3/4" is the actual height of your track, the pet patio door would probably barely fit or not fit as it must compress enough so that you can get it up and over the track walls of your sliding door during installation. The dog door should be a little shorter to assure that you can compress the top enough to allow you to lift it into the track for installation. If you're having this problem with the Ideal or Endura Flap models, you can trim the aluminum flanges on the top. Endura Flap models can be trimmed up to ¾" while Ideal Fast Fit models can be trimmed up to 1"
How do I tell if my sliding glass door is dual-pane or single pane?
Open your slider and put a finger on both sides of the glass. If your fingers look like they're touching, you have single pane glass. If they stop about 1/2" apart, you have dual pane glass. You probably won't be able to tell if you have a low "E" coating, though you may see a slight tint that would give it away. To the right is an example of what a dual pane/low "E" coating door would look like, so you can better determine what type of door you own.
Generally, we recommend that if you do not have a specific reason to get an electronic sliding pet door then you should get a regular manual one. There is less that could go wrong as far a possible malfunctioning. However, if you've got a stray cat problem or a raccoon problem, you'll need an electronic patio panel which would keep all unwanted animals out. Another aspect to think about is if your dog or cat is infirm or very old, one of the motorized panels that allows them in and out freely without them needing to push a flap might be the ticket to a comfortable and easy process for your pet.
What height adjustment ranges and trim colors are available?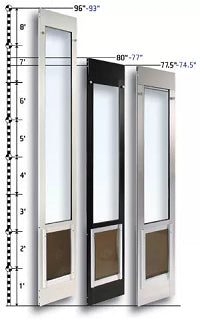 Doggy door for sliding glass door manufacturers usually offer white, bronze (a very dark brown that is almost black looking, especially in room light) and brushed aluminum. In some cases the offering is white only as with the vinyl pet doors and sometimes there may be an additional color like tan or black, depending on brand and model type.
Dog doors for sliders are offered in various height adjustment ranges and the single most important problem is to be sure that your track height is in the adjustment range of the sliding glass door dog door you're considering. You measure inside the sliding glass door track, the very top to the very bottom. When measuring, don't do it all at once. If you do, the top of the tape will be curving and hard to read where it ends. Instead, measure inside the top track down to a convenient height--say 2 feet--and make a pencil line. Then measure up from the bottom track to that line and add. This method is extremely accurate. Height adjustment ranges will be shown on the product page for each of these sliding door dog doors.
Even though your measurement falls within the adjustment range of the sliding glass doggie door you have chosen, you could still have a problem if you are at the shorter end of that range. You will probably require some clearance to get the pet door up and over the track wall at the bottom and into the track!
You should measure the height of the lowest track wall at the bottom (usually the outside). You'll need enough compression to clear that height. Please call our customer service department if you have any question about this. Some pet door patio dog door have special provision for decreasing or increasing the adjustment range a small amount (about 3/4") on the job site anti-whoops!. This feature can save having to ship the pet door back in case of a small measurement error.
What can I use if my sliding glass door doesn't have a track?
You can use an In The Glass unit, or you can install a Hale Omni panel if your slider has a rail.
Besides the material it's made from what makes vinyl framing different from aluminum?
Vinyl framing insulates better than conventional metal framing and you won't get condensation from cold weather. It will also match your existing vinyl sliding glass door, creating a more holistic and professional look.
How do I decide which direction my slider closes?
This needs to be done while you are on the inside of the house looking out. You do need to specify whether your slider closes to the left or to the right so that they can mount the lock correctly.
It depends on how handy you are. If you want something that is easy to install, I would recommend either the Endura Flap Thermo Panel 3e or the Ideal Fast Fit. These pet door panels do not require any tools for installation. For more information, you can visit the 'Installation Instructions' tab on each product page.
Pella and Andersen doors don't have the standard metal railing on the bottom of the track or the standard grooved track at the top that Endura Flap, Ideal, and Petsafe use for installation. Hale Omni Panels would be the best panel to install on these locations as they use a tension nut instead of a spring loaded topper for installation. Visit the Details tab on the Hale Omni Panel page
If you are looking for a dog door in glass door there is one made by Hale that are made to go specially through thin materials like glass. They include a "build out" which is similar to a shim that goes in between the glass and the back of the pet door.
Pet doors for sliders use the track walls to hold the panel in place. With a monorail, you can toe-nail a screw through the panel into the track, order a custom In the Glass replacement unit or If your monorail is 3/4" or less thick, you can install the Thermo Panel 3e with some modification. It is best to contact customer service at (800) 826-2871 x2 to ensure you're finding the best solution for your situation.
The Endura Flap Thermo Panel 3e small size (6"w x 11"h) is the most energy efficient pet door panel on the market. It's avaialable in three larger sizes so it's the best dog door for sliding glass door too!
There are two custom height option pet doors we recommend. The Thermo Panel with Sureflap Microchip Door or the Thermo Panel with DualScan
It is a Custom Thermo Panel with the Extra Large flap at 123 inches. Other Custom Thermo Panel maxium height sizes are: Large 117 inches, Medium 107 inches and Small 100 inches.
The Thermo Panel is the best with a 15 year warranty and that includes the flap!
We offer two options that do not require tools. An economy pet door panel for temperate climates is the Ideal Fast Fit. For areas with four seasons and need protection from hear and/or cold we recommend the Endura Flap Thermo Panel.
We sell two vinyl sliding glass door with pet door panels. The Ideal VIP is the most energy-efficient of the two. The Ideal VPP is for more temperate climates. Aluminum frame panels will work with vinyl sliding glass doors, but you may need to shim the bottom for stability.
We do not install the dog door in glass sliding door . There are many factors which can influence the price of your In the Glass pet door installation. We recommend you contact two or three local glaziers (glass companies) for estimates in your area.
The Endura Flap Thermo Panel 3e and Endura Flap Quick Panel 3 have free shipping. Other panels have a flat rate shipping charge of $19.99. -November 2018
None of the doggy door sliding glass patio panels will mate with your existing lock. Depending on how your sliding glass door is designed, you may be able to install a pet door panel between the wall and the fixed segment of your slider. The other option is to choose the Pet Door Products In the Glass pet door option.
Yes you can have a doggy door glass door. It's a great option because you maintain the full width of your opening and use your existing lock/frame. Pet Door Products can custom make one for you with the assistance of a local glazier that you will hire.
You will need to consider custom dog doors for sliding door. There are two options that can be manufactured to your window height: The Endura Flap Thermo Panle 3e and the Endura Flap Quck Panel 3. Both are made in the US and backed with a 15 year warranty.
The most user friendly and versatile cat flap for sliding glass doors or sliding windows in the Thermo Panel with SureFlap. There are two models of SureFlaps both of which are microchip. The Microchip pet door which is the largest and the Dual scan which controls who exits and enters through the pet door.
We recommend the Endura Flap Thermo Panel and the High Tech Power Pet Automatic Patio Pet Doo
You'll have to do a little math. Measure the opening of your sliding glass door fully open and subtract the width of you pet door sliding glass panel. This will give you the available open space for you to walk through.
Yes. They all come with a locking cover or dial to lock your dog inside or outside of your home.
That is Endura Flap Pet Door's Thermo Panel 3e.
Yes! There are few dog doors for glass sliding doors options. Our most popular is the Pet Door Guys - "In the Glass" replacement insulated glass unit. Another sliding glass doggie doors option is the Pet door Products - "In the Glass" replacement IGU unit.
It's the Ideal Fast Fit Patio Pet Door
The Endura Flap Thermo Panel, Endura Flap Quick Panel, Thermo Panel with SureFlap Microchip and Thermo Panel 2e with DualScan Cat Flap,
There are no wood pet door products for the slider, however you can use the aluminum or the vinyl in a wooden slider depending on the type of track you have. These doors can then be painted to try to match the color of your wood framing.
If your track is raised (monorail) instead of 'U' shaped the Thermo Panel 3e can work with some modification to the bottom of the panel. Your monoral will need to be is 3/4" or less thick. You will need to contact customer service to order an additional part not sold on our website. This will be a custom installation requiring the use of a power drill and possibly a jigsaw. Once these modifications have been made, the panel will not be returnable. Here are some pictures of an Endura Flap Thermo Panel installed in a monorail sliding glass door.
The sliding glass doors with doggie door that has the best warranty *15 years* and is the most energy efficient is the Endura Flap Thermo Panel
Yes, you can custom order heights based on your sliding window. There are minimum and maximum height based on the pet door size.
I need a dog sliding glass door with a tan frame, what are my options?
Two sliding door with doggie door options are available in Tan (Arizona Beige) frame. They are the Hale Omni Panel and the Hale Standard Patio Pet Door for Sliding Glass Doors
What is the best pet door for sliding glass door?
The best doggy door in sliding glass door is the Endura Flap Thermo Panel. No tools are needed for the installation, it is very energy efficient and has the longest warranty - 15 years!
What is the difference between the two SureFlap smart pet door for sliding glass door?
Both pet doors use a microchip to give your cat access. The Microchip Door is larger 7"w x 7"h and only controls what animals come into the home. The DualScan Cat Flap is smaller 5 5/8" w x 4 3/4"h and can control what pet leaves the house and what animals can come in. Both pet door are raccoon resistant.
Can I get a patio door with doggie door frame in any color I want?
Sliding patio door with doggie door frames are made in the most popular color of frames. Usually white, dark bronze, silver and tan.
Can I install a pet door for patio door into a sliding screen door dog door?
No, not as originally intended. Dog doors in sliding glass doors are designed to be installed in the track of the sliding glass door. Screen doors typically do not have a track. You can use it with a screen door, but it would need to be screwed into place.
Can you put a doggy door in a glass door?
There are two glass sliding door with doggie door options. One is the panel that is inserted into the track of a sliding glass door. The other is a custom dog door on glass door order replacement glass unit.
Do you have a slider door pet door for my patio glass door?
Pet door for sliding doors come in Aluminum frames and also as a vinyl insulated pet patio door. There are many factors to consider when choosing the right door for your home.
How do I lock a 3 slide patio door with a doggie door for sliding glass doors installed?
This type of doggie door sliding glass installation can be installed by using two Foot Acuated Dead Bolt Locks. You can purchase them at this link: https://www.petdoors.com/replacement-flaps-parts/pet-door-lock-security.html
I have a sliding glass door with wood frame, which wood dog door do you recommend?
Dog Doors are not made of wood. They are usually made of plastic, metal or vinyl. Most of these frames will fit in the track of your wooden door. You may need to shim the panel in place to secure it.
I have tall slider doors that are taller than anything on your website - what can I do?
You can order a Thermo Panel with a Custom Height. It will be built to fit your sliding glass door height.
I need a black pet door for sliding window shorter than 75 inch, what are my options?
The custom Thermo Panel in Dark Bronze frame is our suggestion. This color is so dark many people mistake it for a black dog door.
I need a locking slider cat door for a patio door, which one has an electronic lock for the cat flap?
The cat door for patio sliding door with electronics that can lock the flap are the Thermo Panel 2e with Microchip Cat Flap and Thermo Panel 2e with Sureflap Microchip Door.
I need a slide side window pet door shorter than 76". What cat door for slider window should I order?
You can order a Custom Height Thermo Panel. It will be built to fit your window.
I want a sliding screen doggie door, can I install any pet door?
Screen sliding door with dog door frames are specific to the screen door design. The one we recommend the most is the Hale Pet Door for Screens. It installs in a large number of screen doors, has a great warranty and is stable.
What cat door for sliders work with microchips?
We recommend the Thermo Panel with a SureFlap pet door. There are three types of SureFlap cat doors for patio doors depending on your needs: https://www.petdoors.com/pet-doors/sliding-glass-dog-door.html?type_filter=1197
What companies make pet door for screen sliding door in black?
Hale Pet Door, Gateway Pet Doors, RCR, Pozzy Pet Doors and Pride pet doors make black dog doors that fit into screens.
What giant dog doors for sliding glass doors are the largest?
The Hale Standard Patio Pet Door and Hale Omni Panel Pet Door are the largest dog door glass doors that come in a flap size of 15.5"w x 27.5"h.
What pet door should I buy if I want a double pane aluminum patio dog door?
The Dog Patio door we recommend is the Endura Flap Thermo Panel due to it's ease of installation, flap sizes and long warranty.
What sliding glass doors doggie door is available in Tan?
The Hale Standard Patio Pet Door and Omni Panel are available in Arizona Beige which is a shade of tan.
Where can I find dog doors for sliding glass doors reviews
Each patio sliding pet door has a review rating and review tab. The rating is under the product name. To find the pet sliding glass door reviews click on the third (Reviews) tab in the middle of the page.
Which dog doors for screen door sliders has a lock?
It depends on your pets size. The Pozzy Pet for Sliding screen doors come in a variety of pet doors sizes that lock.
Which slider PET doors have LoE, dual-pane glass to help insulate against the summer heat?
The doogie doors for patio doors with dual pane glass in the upper portion are the Endura Flap Thermo Panel, Ideal VIP Patio Panel Dog Door and for small dogs the Thermo Panel with SureFlap Microchip Door.
Which Vinyl Patio Door Pet Door is the most insulating?
The Endura Flap Vinyl Sliding Glass Dog Door is the best for sliding glass doors with a vinyl frame. It uses dual-pane, LoE glass and has a wind resistant insulating flap. The runner up is the Ideal VIP 150 Patio Panel Dog Door.
How do I get a patio door dog doors installed?
The best option is a sliding glass door with doggy door in the glass. You can work with a local glazier to install an In the Glass pet door. It is an insulated glass unit with a pet door built in. Here's a link to detailed information: https://www.petdoors.com/pet-door-guys-in-the-glass.html
What pet door for sliding patio door do you have that can lock to my existing door?
The Hale Standard Patio Pet Door can lock to your existing sliding glass door. Here's a link: https://www.petdoors.com/hale-standard-patio-pet-door-for-sliding-glass-doors.html
Do you have any raccoon resistant doggie doors for sliding glass door options?
The raccoon resistant patio door doggie door option we recommend is the High Tech Power Pet Automatic Patio Pet Door. It's flap size is 12 1/4" wide x 16" high for medium and some large size dogs.
What options do I have for a bronze pet door for patio glass sliding doors?
Here are a few brands that make a bronze dog door for sliding glass doors: Endura Flap Thermo Panel, Ideal Fast Fit, Endura Flap Quick Panel, Custom Ideal Fast Fit and Hale Omni Panel.
Which petdoors for patio doors can be installed without the use of tools for a small dog?
The Endura Flap Thermo Panel 3e, Ideal Fast Fit Pation Pet Door, Endura Flap Quick Panel 3, Thermo Panel 2e with SureFlap Microchip Door.